For those going to the game on Saturday afternoon, the Ignatius Wildcats welcome our Jesuit brothers from St. X for a joint tailgate starting at 1pm (during the JV game which takes place at noon) and going until the 4 pm game time.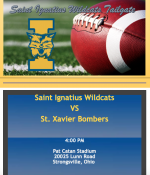 Let's welcome our Jesuit Brothers with a Cleveland Style Tailcat! We can show the southern contingent how it's done!
Thank you in advance to everyone for pitching in this week and making our BIGGEST Tailcat of the year a success!

1:00PM

Parking lot of Pat Catan Stadium

*please see map below for specifics on the location as there are several lots

We will be set up with a buffet in the lot marked in Blue and we will have a 40x40 tent sent up in the area marked in Red for people to congregate.

Parking: You should enter off of Pearl Road (U.S. 42), just past the Post office onto Rademaker-Miller Lane (on the west side of Pearl Rd). There is parking for over 300 right next to the tailgate area.
Additional parking is available off Lunn Rd, which is just before the Post office, - by Strongsville HS
[For those coming from Cincinnati, directions are provided in a post in the St. Xavier Bomber forum for this game]

*PARKING IS $5.00 AT ALL LOTS


LET'S GO CATS!!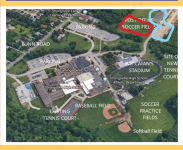 ​