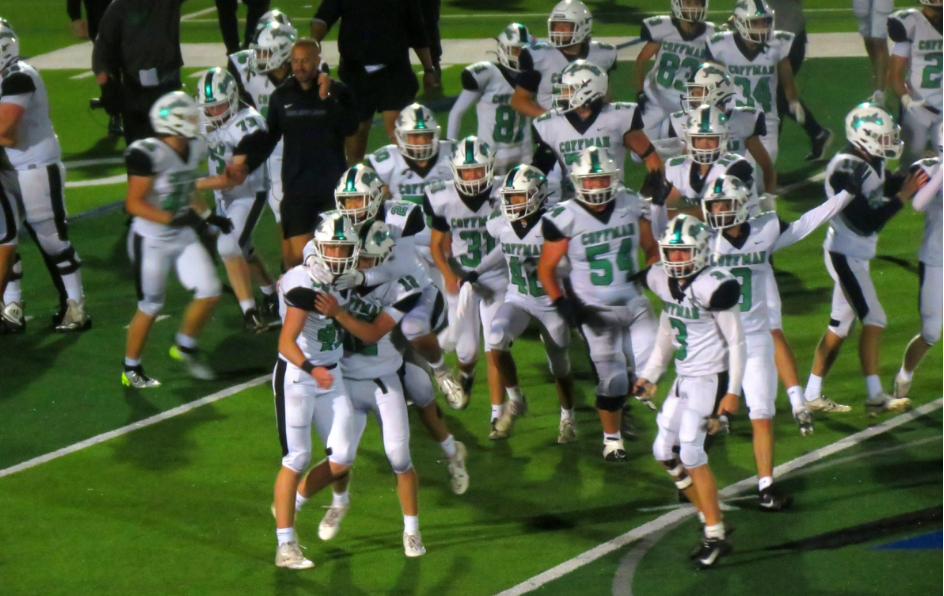 Friday night I made my first visit to Hillard Bradley High School to watch the #2 ranked team in the state Hillard Bradly Jaguars battle Dublin Coffman. The game was played under rainy windy conditions making things difficult for both squads.
The Shamrocks would get a nice ten-yard run from Daven White early in the opening quarter. The Jaguars defense would get a nice play from Nathan Brown when he got to Eli Losey for a short loss. Coffman would bounce back from the negative play when Quinn Hard found Amari Valerio-Hudson for a gain of eight and a first down. The eleven-play drive would end without any points being scored.
Bradley would get a nice 17-yard run from Jack Whitmore. Whitemore would lose four yards on his next carry when he was tackled by Frankie Wilkens. Bradley would punt the ball away as the Coffman defense continued to play well on the drive. After getting the ball back Coffman would get a 12-yard gain when Hart found Losey. Hart would use his feet to pick up6-yards also moving the chains.
Early in the 2nd quarter Ethan Tebbetts, Julian Dandridge, and Nathan Brown teamed up to stop White for a short loss. The 16-play drive would come to an abrupt end when Carson Cox was stopped by Jason Morbitzer on fourth and one. Bradley showed some life when Bradyn Flehart connected with Denis Shishlo for 8 yards two plays later they would punt the ball back to Coffman.
The next time Bradley had the ball Preston Wolfe picked up 19 yards on a nice catch. Later in the quarter, Fleharty hit Shishlo for 34 yards. From there Fleharty would find pay dirt from 17 yards out on a nice run up the left sideline. Jake Walter made this a 7-0 game as he nailed the point after kick.
In the third quarter, Bradley looked to have something going when Tebbets for 14 yards and Lain Tolber for sixteen but no points would be scored on the drive. White would pick up a total of 42 yards on his next three carries but the Shamrocks could not find the end zone as this stayed a 7-0 game.
Bradley would put the ball on the ground on what looked like a muffed handoff and when the pile cleared the refs signaled Coffman ball 16 yards from the tying score. It was not possible to see who came away with the ball. Coffman would convert a fourth and five on the ensuing drive when Hart found Valerio-Hudson for a gain down to the Bradley 2-yad line. Hart would score on a yard run followed by the point after kick from Matthew Schramm to lock things up at seven.
In the final frame, White picked up 24 yards on three runs including a 1-yard touchdown run to cap off the ten-play, fifty-five-yard drive making this a 14-7 game.
Fleharty would pick up 26 yards on a nice run but a 15-yard unsportsmanlike penalty took fifteen yards off of the run. Fleharty would complete a pass to Wolfe for 16 yards, then he used his feet to gain 13 yards. The drive would total three penalties and end with zero points even after Hart was able to hit Shishlo for 13-yards. The biggest penalty came after what would have been a game tying touchdown pass.
On Coffman's final drive, they played not to lose and it almost backfired when their punt was blocked with ten seconds remaining in the game. Bradley had two chances to lock things up but two incomplete passes ended the game.
My stats
Coffman
66 plays
229 yards
Passing, 8-10
Bradley
42 plays
189 yards (78 in 2nd half with 54 of those coming on one drive)
Passing, 8-21
Link to article with pics
https://pafootballnews.com/news/dub...fense-to-upset-2-ranked-hillard-bradley-14-7/
Link to the whole album
https://www.facebook.com/media/set/?set=a.10228348903422125&type=3
Last edited by a moderator: