Coming into this game the Falcons have dropped thirty-three games in a row while Buckeye Local had scored just seven points through three games. Both teams were in desperate need of a win. Things got off great for the Falcons when Anthony Ricco pounced on the football on the opening kickoff after the ball bounced off of a Panther player. On the ensuing drive, the Falcon quarterback went to his right to pick up 29 yards. Brennin Takach and Shane Griffith teamed up to take the Falcons quarterback down for a short loss to bring up a fourth and five.
After the Panthers got the ball back they needed just one play to go the 81 yards they needed for the score, The run came from Alex McDiffitt. Jeven Velex got a good snap from Landon Durbin and a good hold from Takach making his point after kick easy making this a 7-0 game with 7:20 left in the opening quarter. On the ensuing kickoff, Buckeye Local was able to come up with the ball putting the offense right back out on the field. The drive would go for 42 yards, on 7-plays with the scoring play coming on a 13-yard run from McDiffitt making this a 14-0 game. The Panthers defense would get a sack from Kaleb Stang to help usher the Falcons offense off of the field. A couple of minutes later this became a 21-0 game on a 12-yard touchdown run from Koltn Roush.
Just nine seconds into the 2nd frame Cameron Rusnak and Rouse would team up to sack the Falcons quarterback for a loss of six. Then Harlan Davis picked off a Buckeye Local pass to put the Falcons offense back on the field. Rusnak and Stang would each get a sack to end any hopes of the Falcons capitalizing on the turnover. The Falcons would get a sack of their own when Elijah Booker got to McDiffitt for a loss of five. McDiffitt would get the last laugh of the half when he made this a 27-0 game on his 1-yard run.
Xzavier Eastham capped off a 10-play, 63-yard drive with a 7-yard run to make this a 34-0 game with 2:33 left in the quarter. A final big play from the Panthers defense came in the shape of a Wyatt Lutster sack with 1:13 left on the clock.
Eastman also got the last touchdown for the Panthers when he ran through several wannabe tacklers on his way to a 45-yard touchdown run with 11:13 left in the contest. Brownsville offense would avoid the shut when they got a 34-yard touchdown run set up by a nice 24-yard run from Harland Davis.
(I did not have a number 6 for Brownsville on any roster I have nor did I have a number 10 for Buckeye Local so those players were omitted from the article)
My stats
Brownsville
36 plays
61 yards (57 on their last drive)
Passing
1-1
Buckeye Local
35 plays
335 yards
Passing 2-4 1 INT
Link to article with pics
https://pafootballnews.com/district...ers-ground-the-brownsville-area-falcons-40-6/
Link to all pics
https://www.facebook.com/media/set?vanity=DavidLewisBurnworth&set=a.10228027811915038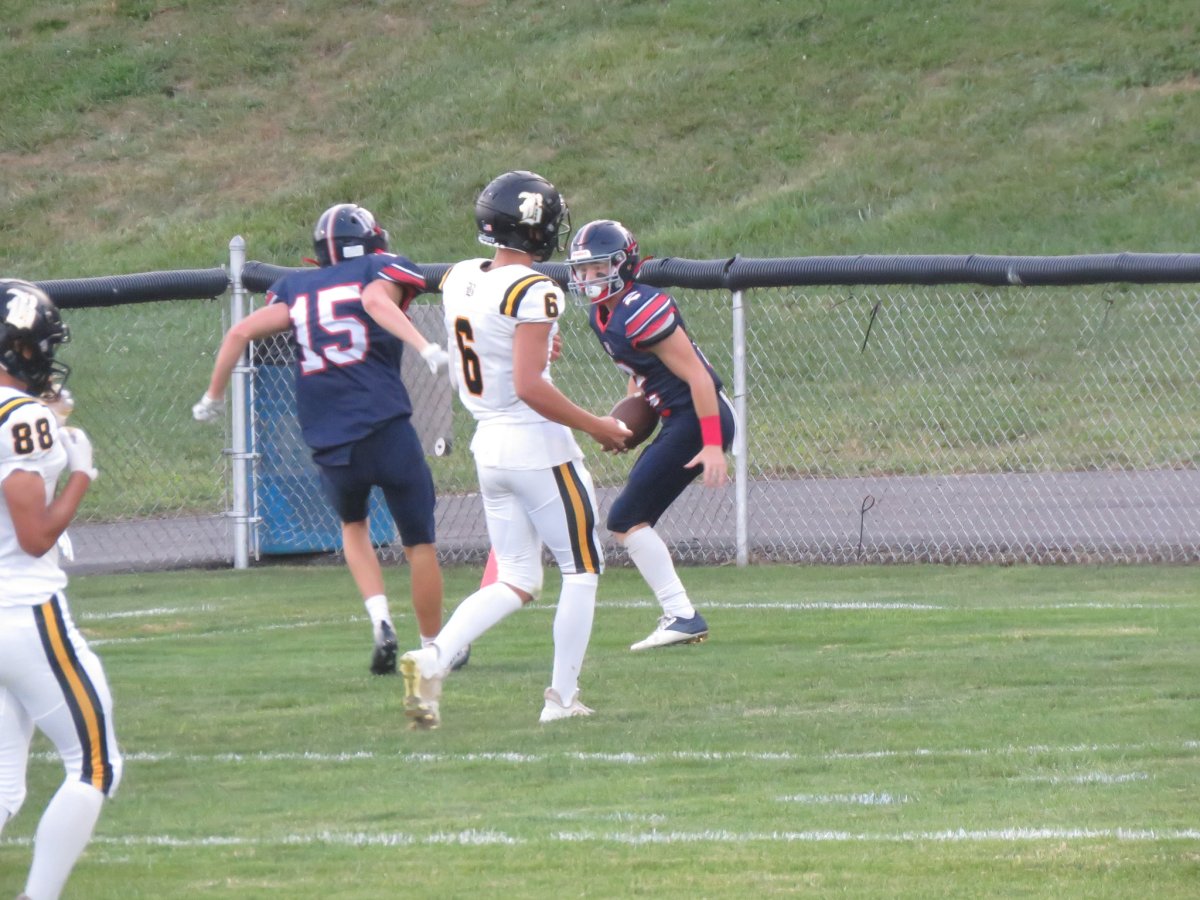 Last edited by a moderator: