It's kind of a slow Tuesday, so let's talk baseball! TLDR for some. I apologize in advance.
I'd like to have some fun talking outfield technique for a little bit and get input from others. I played CF every inning of every game for almost 10 years, and that was the position I coached when I was on the varsity coaching staff. There are a few things that I've learned in my playing days that made me a more effective catcher of fly balls, and to this day I teach those techniques to my players. However, I continue to see some people teaching differing methods - which is great! - but I wanted to open the floor to discussion on what everyone thinks... is there a "right" or "wrong" way to do some of these things, or does it always seem to come down to personal preference?
WHERE to Catch the Ball
I have seen a lot of people teaching outfielders to catch fly balls exclusively on their throwing arm side. I disagree. I teach for each player to find the place he is most comfortable catching fly balls - the spot where he knows he will catch the ball 100% of the time - and to purposefully catch every fly ball in that exact spot every time. If that spot happens to be on your throwing arm side, then great. But maybe it's in the middle of the chest, or maybe it's on the inside of your glove arm shoulder. Wherever you feel most confident catching the ball, catch it there.
The reasoning I hear of people teaching to catch the ball on the throwing arm side is to increase the quickness at which the outfielder can get rid of the ball after catching it. But if we are also correctly teaching our outfielders how to (1) get behind the ball, (2) crow hop, and (3) throw with proper form, by the time the player throws the ball, the time difference between catching the ball on the throwing arm side vs. anywhere else is nonexistent, IMO, or so minuscule that it would never make any difference on a play worth the risk if the player did not prefer catching the ball there. Again, not scientific, but just my gut feeling. In addition, unless the player's favorite spot to catch the ball is on his throwing arm side, it poses an unnecessary risk of passing the glove in front of his line of sight.
In addition to the outfielder always catching a fly ball in his most comfortable spot to increase the likelihood of a successful catch, the next most important reason I teach this is that, in order to catch the ball in the same spot, it forces the player to avoid coasting on fly balls behind him or to either side. Instead, a player must hustle to get behind the spot of the ball in time to be able to catch it in his preferred spot. While I acknowledge teaching to catch on throwing arm side could also lead to this similar idea, the purpose for teaching it always seems to be about throwing more quickly as opposed to more successfully tracking and catching fly balls.
One more thing - I even stress this to the point that, unless the game situation dictates otherwise, I would personally opt to slide in order to catch a ball in my preferred spot with better line of sight than not slide and reach out my arm/glove to catch the ball in a less comfortable spot below my waist. Case in point: I could have easily caught the ball in this photo by coasting and reaching my glove below my waist, but I had a much higher percentage catching the ball by sliding and catching it in my spot (or as close to my spot as possible). Sometimes this leads fans to saying the outfielder "didn't need to" slide, but as a coach, I am never going to say a word if it makes the outfielder more reliable.
HOW to Catch Balls In Front of You, Especially When Diving
When the above situation is not possible - when an outfielder cannot get to the ball in time, sliding or otherwise, to catch it in his preferred spot - he's forced to reach outward and/or below his waist to catch a ball. How to position one's glove is important to me. In this situation, I teach, whenever possible, to hold the glove sideways rather than upwards.
What I mean by sideways: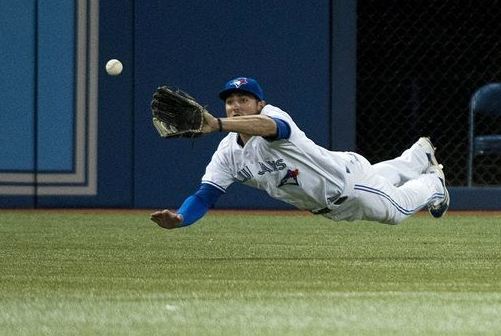 What I mean by upward:
I've always felt that the quality of the line of sight and the angle of the ball to the web of your glove is normally pretty bad in this situation already, and that opening the glove sideways is likely more effective at improving line of sight due to the necessary position of the fielder's arm to hold the glove that way. It is also more accommodating when judging and catching the ball compared to holding the glove open upwards. If the ball is in front of the outfielder and he opens his glove upwards, if he misjudges the ball by the slightest margin, even if the ball hits inside the glove, such as the heel, it's still more likely to pop out,
especially
when charging hard. There is very little room for error. Whereas if you open your glove sideways, I hold the belief that the margin for error in judging the ball is much larger while still catching it cleanly and confidently.
Again, my reasons are threefold - (1) line of sight, (2) margin for error in judging, and (3) likelihood for ball to pop out. I have no scientific or geometric diagrams to prove it, but that has long been my theory. Some argue that a sideways glove is more susceptible to an umpire declaring a trap, but that situation is rare, and can often be avoided by correctly teaching players to quickly and triumphantly show their glove.
Similar as before, I would also go as far as saying if the ball is too far out of reach to catch where the outfielder wants, therefore leaving him 2 choices of (1) to reach down with glove facing upward, or (2) to slide or dive to catch the ball with glove sideways, I would again opt for the sliding/diving option to catch the ball in what I view is the higher percentage fashion.
Don't worry - I do acknowledge two very important factors when teaching this!
1. If the glove is outside (not even with, but outside) your glove-side shoulder and you can't get your glove sideways, your only option obviously is to catch the ball with your glove upwards. This is unavoidable. (yes, the photo below shows even I caught the ball that way sometimes. LoL!)
2. My best ball hawks who have a lot of experience judging and catching fly balls in the outfield can be given some leeway. I wouldn't necessarily say "exception to the rule," but there's some more leniency. It also differs by age group and where at in the season we are (preseason when players are still being taught positions and figuring out where they belong vs. later in the year when players have typically landed where they naturally fit).
Anyway, those are the two techniques I wanted to talk about. I'm curious if others feel strongly one way or the other, or, as I've said before, does it really always come down to personal preference?
I'm always open to new theories and techniques. What other outfield topics have you seen differ from coach to coach?
Last edited: