The new Wrestling Underground event held their first event earlier Sunday night in conjunction with UFC Fight Pass. The event, which was backed and promoted by UFC & Chael Sonnen.
If you didn't watch.. you missed out big time!! wrestlers all over the country, collegiately, wrestled freestyle in a UFC octagon!! the card didn't disappoint either: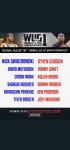 curious to what everyone thinks?? this is awesome for the growth of the sport! especially during the tough times we are in.