** This is parody, for posters like @zeeman and @bigkat and @nutsnbolts who are a little slow on the uptake. **
FOR IMMEDIATE RELEASE

THE OHIO STATE UNIVERSITY ANNOUNCES NAME CHANGE
COLUMBUS, Ohio — On Dec. 7, 2022, the 81st anniversary of the Japanese bombing of Pearl Harbor, trustees of The Ohio State University convened and approved a change of the university's nickname.
"Our football team Pearl Harbored its way into the College Football Playoff this past weekend," trustee Joe Schmohawk said. "We know our team typically gets summarily dismissed in the CFP. We noted that our playoff failures were shared by our friends to the north, the Cleveland baseball team formerly known as the [
redacted
]. With their success under the new moniker of Guardians, including a playoff series win, we were motivated to explore a similar change."
The University consulted with a naming expert who only wanted to be known as a former WWE Champion. The consultant noted that the word Buckeye not only had no association with the people of Ohio, but that it was similarly divisive and exclusionary as [
redacted
], given that it excluded numerous other types of nuts such as almonds, cashews, walnuts, peanuts, etc. The consultant also wanted it noted that the University paid him more than peanuts for his viewpoints.
"The consultant was a real Tree of Knowledge for us and knew everything about name changes," Schmohawk said.
Schmohawk continued: "We are proud to announce that, effective immediately, we are renouncing the moniker of Buckeyes, and going forward we will be known as the Ohio State Butteyes. Additionally, Brutus the Buckeye will be retired. Our consultant noted that our Brutus mascot has been a damaged brand ever since he got his backside handed to him in a years-ago brawl with the Ohio Bobcat. Also, the consultant noted that Brutus's head could be a future target for Columbus-area squirrels foraging for nuts before their winter hibernation."
The University feels that Butteyes more truly represents its large fanbase, particularly those who spew their opinions on Internet message boards like molten diarrhea.
Additionally, the University feels ashamed of America for its invasion of Iraq in 2003. As a reparation to the people of Iraq, the University's replacement of Brutus will be awarded the first name of Iraq's former leader. "Our new mascot, Sadam E. al-Awer, might be uncomfortable at first for some, but they'll open themselves up to him as time goes on," Schmohawk said.
Al-Awer's costume is in its initial stages. He will not appear at the University's CFP game versus Georgia.
New Butteyes apparel will be released ahead of the CFP appearance. A prototype is included with this press release.
— 30 —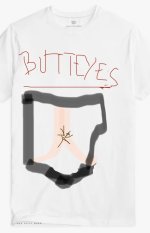 It's true, it's true. Trust me …