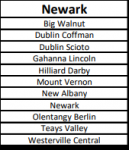 Snapped team lineup from Borofan (Who we all thank for their tireless work!)
Toughest d1 Central OH Sectional, per Inside the Circle. Cant disagree there.
Several weights where someone legit is going to be left at home next week.
My eyes honestly go to 285 pretty quick. Someone with legit State aspirations will have to settle for a District Alternate spot.
Per the 21 BFA (
https://www.borofanohio.net/2021 Boro Fan Almanac.pdf
)
#2 Weaver (Darby)
#4 Ucker (Coffman)
#5 Thurston (Teays Valley)
#31 Stradley (Mount Vernon)
#39 Krisop (Berlin)
It will be very interesting to see how this plays out. Gotta think the margins are super thin between the top 3. Then I've seen some rankings/discussion of Krisop being ahead of Stradley. So I have to think that one will be close.
Last edited: