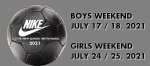 Save the date for the Nike Elite High School Invitational
We are all hoping for some sense of normalcy in 2021 and hopefully that means the return of high school soccer as we have known it prior to 2020.
The 2021 Nike Elite Invitational for Girls will be held the weekend of July 24/25, 2021.
The Nike continues to offer a wide array of options for attending high schools depending on if you are seeking a challenging schedule or one designed to test your players seeking to secure placement on your 2021 rosters. One distinct advantage (on the off chance we are still in masks come summer) the tournament format allows your team(s) to get in and out without standing around all day waiting to play your next match!
The tournament format features (5) games lasting 50 minutes each, spread out over two days. Each game is staffed by a three man ref crew and games are played on natural surface regulation sized fields. Medical trainers are on site and will provide care to athletes as needed.
The cost of the event is once again
$425
for the first team from each school entered and $400 for each subsequent team from that school.
The event will once again be held at the Rialto Soccer Complex - 5226 Rialto Road, West Chester, Ohio 45069. The complex is located roughly half way between Cincinnati and Dayton, Ohio off of I-75.
We will be opening the registration page for the 2021 event in a few weeks, but we wanted to get info out so you could save the date.
In the meantime, if you have any questions please feel free to reach out to
elitehsinvitational@gmail.com