Thursday night, I made my way to Richmond, Ohio, for the first time to catch the battle between Edison High School and Oak Glen High School out of West Virginia. Edison came in 3-0, while Oak Glen came in with an 0-2 record.
Oak Glen would make the games first big play when Tyler Mozingo was able to stop a fake punt try by stopping Ian Reed for a 1-yard loss. There were two more big defensive stops in the quarter. First, Cameron Hebrock stopped J.D. Henderson for a loss, and then it was Edison who made a big play when Chase McClurg stuffed Logan Murray for a nine-run loss.
With 8:58 left in the opening half, Henderson would find Deacon Rawson for a 31-yard touchdown, and then Liam Watson got a good hold from Dawson Jones to make this a 7-0 game with his point-after kick.
Evan Kimmerle would recover an Oak Glen fumble, only to see Xavier Howard get the ball right back to the Oak Glen offense when he stripped the Edison runner. After Edison's defense stopped the Oak Glen offense, Henderson found Avante' Hayes for the 81-yard touchdown, making this a 14-0 game with 4:25 left in the half.
Before the half ended, McClurg laid the pads on Burt Anthony after the catch, holding the receiver to a yard gain. Hebrock would record a sack when he got to Henderson for a loss of four.
A 24-yard run from McClurg followed by a 21-yard run from Henderson set up a 9-yard touchdown run by McClurg to make this a 21-0 game with 8:26 left in the third quarter.
Hayes connected with Rawson for 38 yards to help set up a 9-yard touchdown run from Hayes, making this a 27-0 game with 5:17 left in the quarter.
McClurg ended the scoring with a 1-yard touchdown run with 10:17 left in the game, making this a 34-0 game. The running clock started after the score, not allowing either team much time to do any more damage.
My Stats
Oak Glen
46 plays
-4 yards
Passing 4-14
Edison
48 plays
358 yards
Passing 12-18
(I used the Edison roster off of Hudl and the Oak Glen roster off of WVSSAC.ORG.)
Link to article with pics
https://pafootballnews.com/news/edison-wildcats-roar-to-win-over-the-oak-glen-golden-bears-34-0/
Link to all pics
https://www.facebook.com/media/set?vanity=DavidLewisBurnworth&set=a.10228027213460077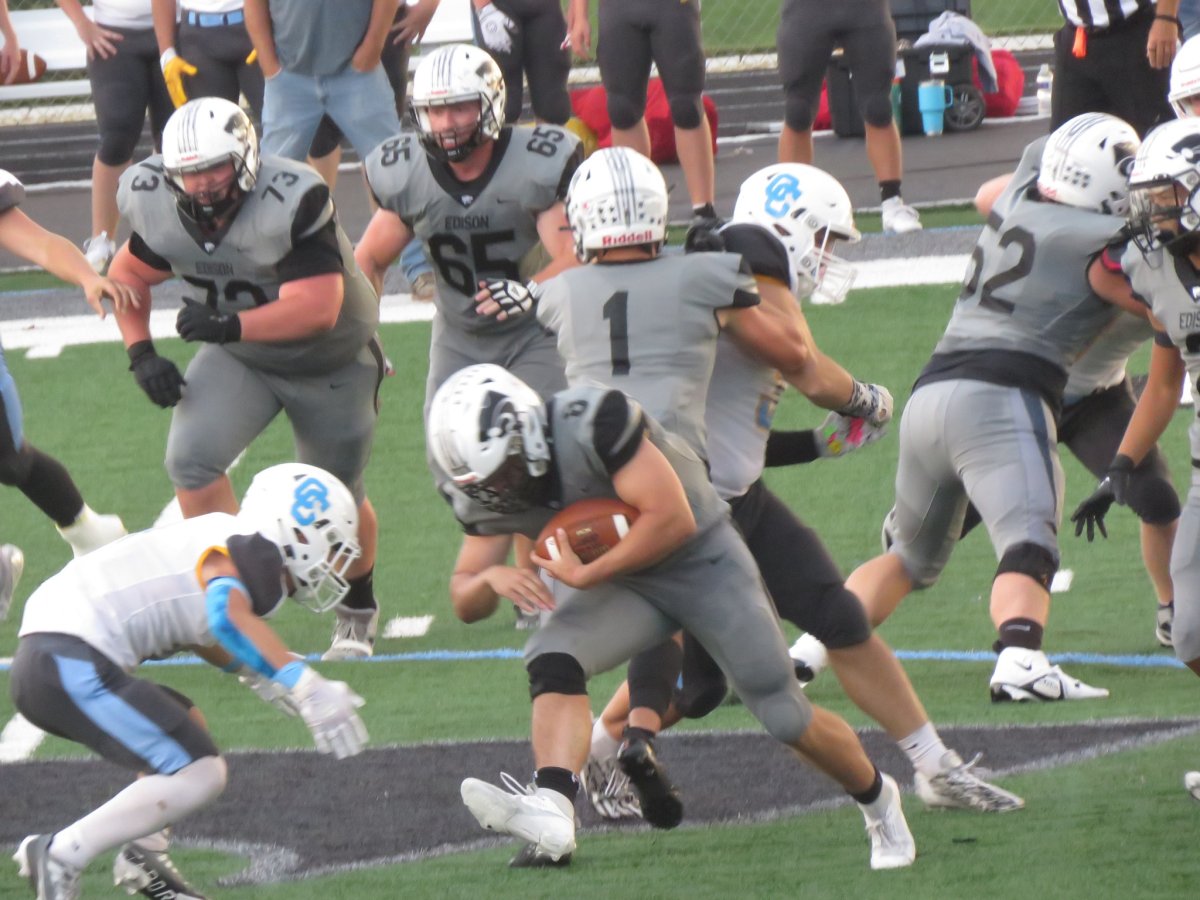 Last edited by a moderator: