With Ford bringing back the Bronco I thought about other things from the past you'd like to see reintroduced today.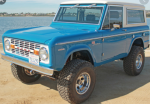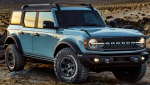 In Toledo we had a couple restaurants that originated in Michigan called the Sveden House which had a dynamite smorgasbord and roast beef carving station.
https://99wfmk.com/sveden-house-michigan/
Another would be Salisbury Quarry. Great place for a kid to spend time. Learned how to do all kinds of flips and special dives off the cliffs and also learned how to actually dive. Was bought out and developed for high end homes.