Registration has begun for Frosty Brown Fall Batting Leagues. Our leagues were founded in 1993 and has served several close to 2000 youngsters.
Located in Duke Park in Troy, Ohio. The FBFBL offers 3 leagues. The original Fall Batting League for 13-18 yr olds (Monday- Thursdays / players typically play 3 games a week. On Sundays and occasional Saturdays, there is the Fall Live Pitching League for HS age players, using modified HS Rules. On Saturdays & occasional Mon. evening, there is the Jr. Fall Batting League for youngsters 9-12 yr olds.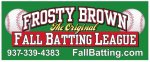 Contact: Frosty Brown at
ibrown@woh.rr.com
, or text/call 937-474-9093.