I was cleaning up some files on my computer, and ran across this screen grab of the Region 8 coaches' predictions: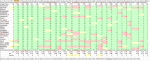 The 8 region quarterfinalists are: Winton Woods, La Salle, Piqua, Kings, Turpin, Anderson, Stebbins, and Edgewood.
Looking across the rows (the coaches pre-playoffs seeding vote) as their prediction of other teams' performances, we can look at the votes of 17+ (if you have been eliminated) or 18+ (if you are still around) as predictions of who will make the quarterfinals. Looked at from that perspective, the scores for the various coaches at predicting the quarterfinalists are as follows:
Perfect: Briggs, La Salle, Talawanda, Teays Valley, Tecumseh, Winton Woods.
Missed one: Edgewood (17), Turpin (17), Fairborn (16), Lima Senior (16), Little Miami (16), Loveland (16), Piqua (16), Anderson (15), Harrison (15), Franklin (14), Sidney (14), Stebbins (14), Troy (13), Xenia (13), Belmont (12), West Carrollton (12).
Missed two: Kings (12,17).
Missed three: Columbus West (9, 14, 16), Withrow (2, 12, 16).
Well done to the coaches from Briggs, La Salle, Talawanda, Teays Valley, Tecumseh, and Winton Woods for correctly gauging the strength of the schools within the region.