Jim Ryun first broke 4:00 as a high school junior in 3:59 in s stacked race where all competitors had times under 4:00.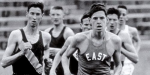 At the AAU championships in 1965, he set what was the high school record in the mile at 3:55.3 and which lasted for 36 years.
Then on July 17, 1966, he set the world record in the mile at 3:51.3.
To anyone who questions if he ever broke the 4:00 mile in high school only competition, the answer is yes. He ran 3:58.3 at the 1965 Kansas high school state championship.
Last edited: